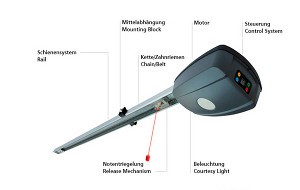 Best Garage Doors can fit many different designs of automatic door systems to meet your requirements. We can add automation to any up n over, side hinged, all types of roller doors and sectional doors.
Call Best Garage Doors, Barnsley, South Yorkshire on 01226 828015 or Mob: 07984 266696 for a FREE NO OBLIGATION ON-SITE SURVEY AND QUOTE.
Automatic Door Systems – NovoPort

One of our latest designs of automatic door systems is an integrated NovoPort® operator, which is purposely designed for sectional garage doors. You can raise the level of comfort in your garage at the push of a button and also shut out any inconveniences. You'll never have to get out in the rain or cold and open and close the garage door by hand! Garage door and operator are perfectly matched to one another and certified by independent institutes in accordance with the latest safety
guidelines. This way you have the comfort of receiving maximum security with top quality with a 5 year guarantee on mechanics and motor included!
Unique technology: thanks to flexible side mounting
The NovoPort® operator system not only offers maximum convenience during operation, but also during installation. After all, it is not fixed to the ceiling like conventional operators, but simply integrated into the side garage door track – either on the left or the right depending on the structural conditions. Therefore no ceiling assembly is required and any installation problems are ruled out from the outset.
Automatic Door Systems – 553NRG Operator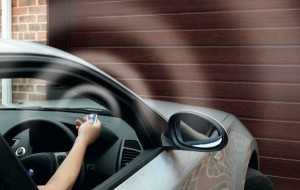 One Powerful Automatic Operator for Up & Over and Sectional Doors.
The Novomatic 553S opener is designed for up and over and sectional garage doors. The ultra-reliable, near silent belt drive operator incorporates a courtesy light and internal quick release. The opener can be enhanced with extra handsets, mini wall mounted push button controllers,
Novomatic features at a glance:
• 700N max push/pull force
• Simple operation
• Soft start and soft stop function
• Integrated shutdown stopping device and electronically monitored push-up safeguard
• Adjustable opening time from 10 to 240 seconds
• Programmable inside lighting and connectable outside lighting
• Two hand transmitters included as standard
• Power economiser
• Manual quick unlocking device in case of power cut etc.
It runs and runs and runs
The wear resistant top-quality toothed belt rail ensures quiet and smooth running and long-term, reliable garage door operation. The toothed belt is reinforced on the inside with fivefold steel cables, oil and acid resistant and completely maintenance-free.
Practical – which ever way you turn it
The flat operator head of the Novomatic can be turned by 90° or 180° if required. This saves up to 15cm space when the slide-in depth is, for example, reduced due to a wall construction. The operator track does not have to be additionally shortened either.
Programming made easy
Novomatic can be conveniently and easily programmed with three buttons and a concise 7 segment display. No setting can be overlooked during programming thanks to the systematic menu navigation. All settings are infinitely saved, even in case of a power cut. The operating state is always recognisable through the transparent cover. Clear error coding allows for a quick and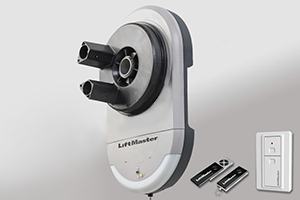 safe fault analysis if required.
Call Best Garage Doors, Barnsley, South Yorkshire on 01226 828015 or Mob: 07984 266696 for a FREE NO OBLIGATION ON-SITE SURVEY AND QUOTE.